These 3 gites consist of large gardens and heated pools, sandpits, trampolines and climbing frames. The child friendly 2 – 3 bedroom gites are situated in a shared meadow with a play barn and pirate ship. Each gite has toys, books and dress up clothes and there's a welcome gift for each child under their pillow on arrival. The gites are 3 hours from a beach but close to child friendly lakes and rivers, perfect for a dip. Mums and Dads can arrange a massage in your gite and you can also hire an English speaking baby sitter. There are loads of day trips which you can do from here also such as a trip to a local farm to meet the animals and wine tasting at the local vineyards. Family gites  from €990 a week in June from babyfriendlyboltholes.co.uk
This 17th Century farmhouse consists of 7 apartments, each with its own outdoor space offering families both privacy and communal fun and games. There is a splash pool, sand pit, play equipment and ride on toys. There is also table tennis, boules, mini golf, badminton and a large swimming pool. Twice a week, residents are invited by the owners to the onsite restaurant for home cooked food and there are cooking lessons available also. Assisi and Perugia are close enough for day trips. An apartment for four plus babies from €990 to €1,485 a week from babyfriendlyboltholes.co.uk
This 6 acre estate is only a few minutes drive from the best beaches in Sardinia and consists of 5 farm buildings converted into spacious, rustic apartments complete with kitchens, washing machines and terraces. The restaurant serves pizza and local dishes and there are a total of 4 pools and beautifully-kept gardens. Each property has its own car park, barbecue facilities, and playground and kids can feed pigs, wild boar, sheep and hens and also meet the donkeys. Apartments for 4 cost  £500 per week from Justsardinia.co.uk or you can book accommodation directly through the farm
Set against the backdrop of Mount Etna, Princely Houses Farm comprises a main house and five cottages sleeping four to eight in a garden of citrus, olive and palm trees. Each house has its own covered terrace and garden, and shares a large sun terrace with two large pools and a small play area. A 15-minute drive takes you to chic Taormina, famous for its Greek theatre and its cable car to the beach. A 30-minute drive away is Parco Avventura Etna, a woodland adventure playground. A Cottage for four from €300 to €1,000 a week depending on the time of year you travel from wishsicily.com
This estate consists of an enchanted landscape of old olive trees, oak woods, cultivated fields, rolling hills and valleys. Three family friendly farmhouses that were originally built at the beginning of the 18th century have recently been restored and renovated into 9 apartments, 2 cottages and 1 villa. Ground floor apartments are stroller accessible and some of the apartments have a private gardent or terrace. Each apartment has a wooden kitchen, equipped with dishwasher, electric oven, 4 burners, fridge and freezer and cots, high chairs and toys can be provided. Many of Umbrias's most famous sites are accessible and make for easy day trips. The property has open safe areas with a number of activities including swimming, cycling, cooking and nature trails.  There is no restaurant but breakfast can be arranged and the grocery store is 10 minutes away by car. Prices for two adults and two children start at €500 per week in June.
Il Fornaccio is set high above the Mugnone valley and is a truly blissful  spot. There's a pizzeria that you can walk to and Florence can be glimpsed through the trees. Surrounded by olive orchards and fields, Il Fornaccio (the"bread oven") is a 16th-century farmhouse which has been beautifully restored. Loredana runs the property and she prepares breakfasts of home-made cakes, yoghurts, fruits and jams before she leaves for work. The two bedrooms, with spectacular views, feel lived in and loved; one is perfect for families with a private kitchenette and charming courtyard. Il Fornaccio, Via di Campolungo 297/B, Florence (00 39 348 772 3629; ilfornaccio firenze.com). Doubles start at €80, including breakfast.
This property is located to the south of Florence and is set among idyllic olive groves and riverside paths. These 7 apartments are set on a working farm and winery and sleep between 2 and 8 persons. The property has a large swimming-pool along with a little health-centre which is equipped with a palestra, sauna and a massage area. You can buy Chianti and olive oil on the property and there are children's cooking and pasta making classes. Everything from cots to sterilizers are provided, there's a gated pool and there's plenty of space to run around. You can take a bike ride or tour the pretty towns of San Gimignano or Socicitte. The price for a family apartment ranges from €650 to €1250 per week.
This stylish holiday home is set on an organic farm just outside St Jeannet. It sleeps 10 and has a pool and gardens. There are also 2 tented lodges which sleep 6. You can arrange for a cot to be placed in your tent. Kids can feed the animals and tend to the vegetables. The proeprty is located close to the Riviera and is an ideal base for exploring the coastline. Ecolodges cost €190 per night for a family from April to October. During July and August the cost is 1330€ for 2 people for a week and €36 per extra bed. Breakfast costs €16.00 per person.
You can relax in a hammock while your children play among the orange and fig trees at Finca Sa Rota. The owners have opened their 28-hectare farm to agrotourism and love to introduce guests to their homemade fig jams and breads. Their grandchildren visit often, so there are plenty of toys, books and games, buckets, spades and parasols for the beach. There is a swimming pool, but you're not far from some of the island's best beaches. Just down the road is the village of Sineu, home to Mallorca's oldest market. There are three doubles in the main house, and six apartments with private terraces. A two-bedroom flat is priced from €214 to €285 a night, long-stay discounts are available.

This 370-acre estate has been family run since 1673. It offer tranquil surroundings of olive groves and rolling hills within the hamlet of Poreta. Two friendly dogs and the owner, Filippo, live in the villa up on the hill. The Borgo, with 11 rooms and seven apartments, exudes exclusivity but is relaxed and children of all ages are welcome. This is a resort of the classiest kind, with a kitchen for cookery courses and three swimming pools. Doubles start at €120; apartments from €180 per night (sleeps 4), both self catering.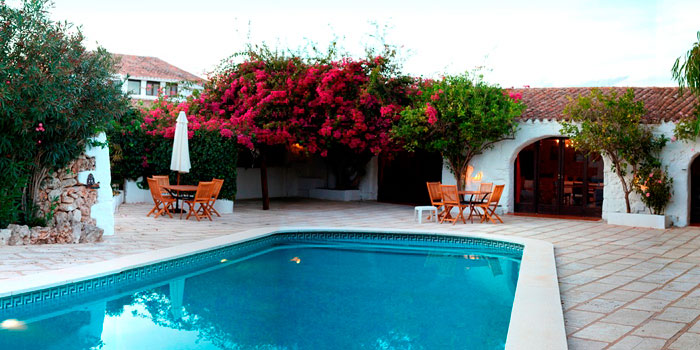 Donkeys and sheep roam free at Matxani Gran, a 24-acre rural B&B in south-east Menorca. Little ones might even spot tortoises in the grounds of the converted 18th-century farmhouse. Its 10 bedrooms have wooden beams, sandstone walls and rustic furniture, but also free Wi-Fi and satellite TVs. Guests share a lounge with library, honesty bar, pool table, barbecue area and well-stocked kitchen. Dotted among the sofas and rocking chairs are old farm wagons and other reminders of farming days gone by. It's a 10-minute drive to pretty Cala Canutells with a sheltered sandy beach great for snorkelling. Quad room from €92 to €210 a night. matxanigran.com