Seville has plenty of family friendly hotels and apartments…
These apartments are family friendly and centrally located and provide a cot free of charge. The apartments are a short distance from Seville's Cathedral and the Giralda which means you wont need public transport to see the city's most famous sights. There are fully equipped kitchens, a self service laundry, wifi and cots are available on request free of charge. The building is also accessible to strollers.
This wonderful hotel is set in the heart of the old city, you'll be within walking distance of everything from the cathedral to El Corte Ingles (a mega store with great groceries). Each floor is dedicated to a Spanish artist (El Greco, Goya, etc.) and every room door is painted with that artist's work.  Cots are available on request and the staff are very child friendly.
This hotel is located in the old town in the heart of Seville, 300 metres from Plaza Nueva Square. The hotel features air-conditioned rooms with free WiFi access. Each room comes with a flat-screen TV, minibar, safe and a kettle with a selection of tea and coffee. The private bathroom is equipped with a hairdryer. Laptops, iPads, and DVD players are available on request and subject to availability. Cots are available on request and kids are very welcome!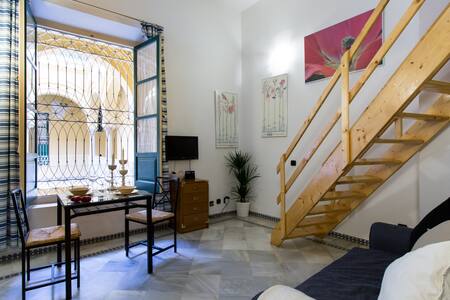 Sevilla Loft are the first luxury apartments in Seville and their building, with five apartments, is located in the centre of the city, next to the bullfighting Arena "La Maestranza" and less than 500 metres from the Old Quarter (Cathedral, Alcazar, Indies Archiv and Santa Cruz). Each apartment has a kitchenette and cots are available on request. Apartments available also on Airbnb.
This excellent hotel is located in the centre of Seville that is full of charm and ideal for a families and babies. It is located right at the heart of the city. The hotel next to the cathedral in Seville and provides free wifi, breakfasts, gifts for children and laptops which can be used free of charge. It also offers family rooms for up to 4 people and free cots. There is also a personal computer in each room.