Benalmadena
Benalmadena is about 25 minutes by car from Malaga and has a whopping 20 kilometres of coastline. The old town consists of whitewashed houses and narrow streets, while the main centre packs in the bars and restaurants. On the seafront, there are back-to-back beaches and a marina that has won awards. Most of the beaches are backed with cafes, bars and restaurants. You'll even get ones with children's playgrounds. Benalmadena really packs in the family attractions. Tivoli World is a theme park so big it has its own currency and Sea Life  aquarium (below) is also in the area. Paloma Park is an ideal spot  for picnics and lakeside walks. And you can take a cable car up into the mountains. You can walk the promenade to Torremolinos in about 40 minutes or easily reach the pedestrianised Calle San Miguel and explore its shops and cafes.
Biopark Fuengirola
This highly acclaimed biopark has beautifully designed, open enclosures laden with greenery, rivers and even exotic temples. You can roam around its jungle like gardens and see tigers, chimps, gorillas and reptiles all at home in their natural-style settings. There are some imaginative combinations of wildlife such as wallabies hopping around crocodiles and pelicans peering at gibbons.  Lemur Monkey Island has guided walking tours. Other favourites are the orangutans, meerkats, pygmy hippos. There are a number of restaurants and a children's playground making this the perfect family day out!
Butterfly Park
Opened in 2011, Mariposario Benalmadena is one of the biggest Butterfly parks in Europe and the largest in Spain. It is beautifully located in Benalmadena Pueblo, opposite the Buddhist temple with its spectacular views over the coast. It boasts large numbers of different species from both the Americas and Asia. In the park you will learn and see how a butterfly is born, find out which species is the biggest butterfly in the world, see nocturnal butterflies and enjoy the unique experience of having more than 2000 butterflies fly around you. Toddlers will love this experience.
Cordoba is one of Spain's cultural jewels. Situated on the Guadalquivir River, this lovely city is a mix of Roman, Moorish, Christian and Jewish architectural influences. Once the biggest city and cultural centre in Europe, Cordoba's diverse nationalities lived together in harmony in the Middle Ages. You'll take a guided walking tour around its landmarks, with an hour exploring its showpiece – the Mezquita. This stunning 1,000 year-old mosque is crowded with 800 archways and unique for housing a Gothic cathedral in its centre. You'll also see the beautiful old town, the largest of any city in Spain, and look around the picturesque Jewish Quarter. Here whitewashed streets and patios burst with flowers and lead to a 15th century Synagogue. There's free time for lunch and you'll also get the chance to take photos of the city from its best viewpoint – its famous Roman bridge (pictured). There are a lot of steps, uneven surfaces and cobblestones here so bring a fold away stroller or baby carrier if possible for exploring.
Fuengirola
Sandwiched between Torremolinos and Marbella, the former fishing village of Fuengirola is now one of the Costa del Sol's biggest resorts. It's got the high-rise hotels along with smaller sides streets and squares crammed with upmarket tapas places and chic boutiques. Its Moorish castle adds a bit of history. The town also has a  huge sandy beach which is ideal for toddlers. Fuengirola has 8 kilometres of sand, split into 8 different beaches.  There are plenty of chiringuitos (mini-restaurants) right on the sand – plus reams of food and drink places on the Paseo Maritimo, which spans the whole of beach.
Granada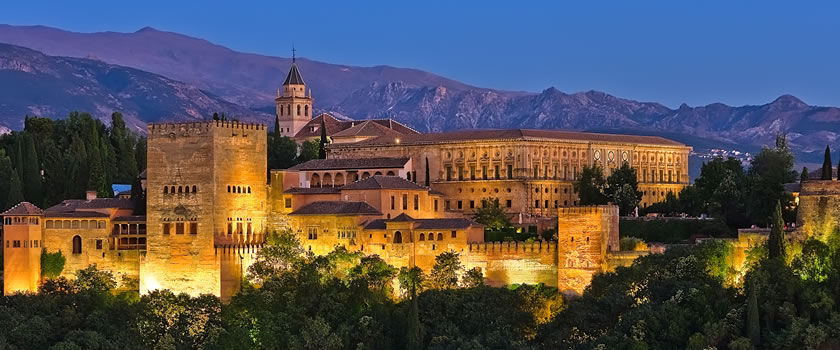 Fuengirola is less than 2 hours from Grananda and its definitely worth exploring if you think your child will cope with the journey . Here, at the foot of the Sierra Nevada mountains, the  Alhambra Palace, a vast Moorish citadel that dates back to the 14th century stands. It's an architectural wonder, with latticed columns and ceilings that look they've been carved out of honeycomb. And close by are the Generalife Gardens, all fountains and cypress-lined paths.
Lobo Park, Antequara
Nature, adventure, expeditions, and four big wolf pens is what you're going to find in Lobo Park, a unique theme park sitting 8 kilometres away form downtown Antequera, in the heart of Andalusia. The park has European wolves, timber wolves, Iberian wolves and Arctic or white wolves who together in Lobo Park's 40h acre nature reserve. They play, hunt, eat, and communicate using howls. There are guided tours and horse riding lessons available, too. In addition, there's a school farm in Lobo Park, where children can learn how to take care of friendlier animals: Vietnamese pot-bellied pigs, Iberian pigs, ducks, geese, peacocks, goats, hens, foxes, sheep and many more. There is a café with a terrace with fantastic views.
Malaga
Malaga airport is the main arrival point for visitors to the resorts of the Costa del Sol however, the city itself is also worth a visit. Malaga was the home to Pablo Picasso and the museum there has many fine pieces of the artist's work. The Cathedral is stunning and also worth a look and the shopping in Malaga is fantastic offering a pedestrianized city centre with familiar brands and local goods also. Three are also plenty of restaurants and tapas bars around the city which are family friendly. Tivoli World, Near Malaga is amusement park is ideal for younger kids; in fact most of the attractions are geared towards younger kids and not adults. Among the attractions you can enjoy the roller coaster, Twister, Jurassic Adventure mysterious ship or the free-fall tower of 60 meters. The Botanical Gardens in Malaga are also well worth visiting.
Marbella
Marbella is known for its glitz factor and the seafront Golden throbs with bars and clubs. But there's a traditional side too, in the calm oasis of the old town. Marbella has  24 beaches that streak their way across a 25-kilometre stretch from Guadalmina to Las Chapas via Puerto Banus. They come with dark sand or pebbles and are backed by shops and restaurants on the Paseo Maritimo walkway. The whitewashed old town – or Casco Antiguo – is partly framed by 10th-century Moorish castle walls, a throwback to its Arab heritage. Narrow streets meander past flower-strewn balconies, leading you on through shady squares with orange trees, fountains and bustling cafés. On the way, there are historical sites, like the 16th-century Encarnación Church with its ornate interior. You can also see the old Roman old baths and take in the ruins of the Rio Verde Roman Villa.
Nerja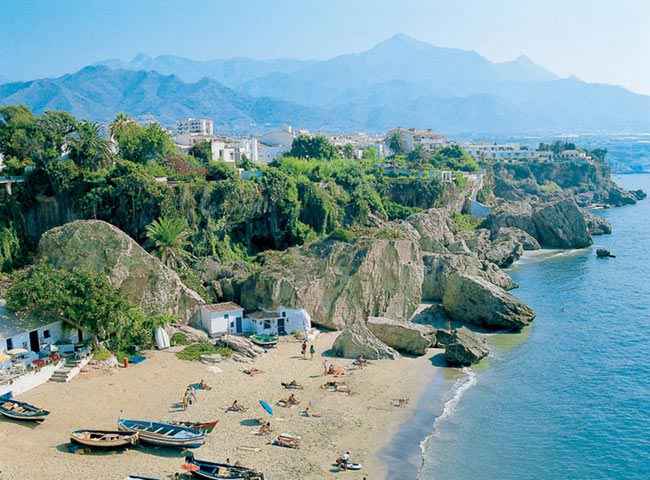 Nerja is a charming and relaxed family friendly town on the Costa del Sol. The town has plenty of bars, restaurants, shops, terraces, viewpoints and squares that retain all their traditional Spanish and rustic features. You will also find loads of nice places to eat around the Balcon de Europa and the nearby side streets. Nerja is in close proximity to the church of El Salvador, the famous Balcón de Europa Hotel, the bridge of Águila and Verano Azul park. 3 kilometres east you will find the 5-kilometre marble and limestone caves which were first stumbled upon by a group of friends back in 1959. You'll need sturdy shoes for the hundreds of steps into this enormous series of grottoes, but the sight of the world's longest stalactites are well worth the 8-euro entrance fee. This is a difficult place to visit with babies and toddlers and it might be a good idea to take turns entering the caves if there is a group of you visiting the area.   During the summer months, al fresco dining is popular so you will have no trouble finding somewhere to eat with a baby or toddler.
Ronda
Many of the resorts on the Costa del Sol allow you to take a day trip to Ronda which is one of the most unique and beautiful towns and Europe and will not disappoint.  Legendary writers like Ernest Hemingway, Orson Welles and George Elliot all took inspiration from Ronda in their time. The town's most famous for the plunging gorge that splits it in two. There's a bridge across the ravine. Walk along it and you'll feel like you're walking the high wire on the tightrope. There are more than 120 metres of fresh air between the arch of this structure and the canyon floor. This traditional Andalucian town is full of Medieval architecture and inviting plazas. The town is home to the oldest bullfighting ring in Spain.  When you've finished exploring, you'll either go for a tapas lunch. This area of oak trees and pastures is protected as a Biosphere Reserve, and it's the grazing land for the fighting bull breed and Andalucian horses.
Selwo Aventura Safari Park (near Marbella)
The Selwo Aventura safari park is like a slice of Africa in the Costa del Sol with lions and elephants. The 100-hectare safari park is home to 2,000 animals from all corners of the world. Enter the gates and you'll board a camouflaged all-terrain truck to trundle around its themed routes. On your way, keep watch for big cats, rhinos, hippos, jaguars and loads of other wonderful animals, reptiles and birds. Top attractions include the Route of the Valley, a rugged gorge roamed by bison, tiger and camels. Then there's the Canyon of the Birds and Reserve of the Lakes, where you can wow at bird demonstrations featuring free-flying eagles and condors. And for extra thrills, you can walk hanging bridges, try some archery, ride a dromedary and even zoom down a zip wire. A restaurant, gift shop and petting zoo for the little ones round everything off. A big adventure for all the family.
Sealife (Benalmadena)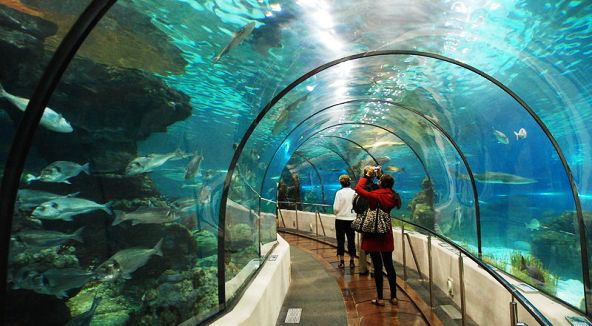 Enjoy a close encounter with the deep at this sea life centre in Benalmadena Marina. Fascinating and educational, the centre ensures you get the best views of a host of different species from the sea, including sharks and some spectacular tropical fish. There's a full programme of feeding demonstrations, talks and special presentations, and you can even feed and touch the friendly rays. There's a souvenir shop and restaurant and changing facilities in the centre.
Selwo Marina
At the Selwo Marina you'll be entertained by  sea lions, penguins, parrots and dolphins.  The park also features a restaurant, gift shop and a fantastic activity playground, a perfect place to spend a half-day. There are additional interactive experiences available such as swimming with sealions and interaction with dolphins – a unforgettable opportunity to get up close to these intelligent and entertaining animals.
Torremolinos
This is a very touristy town with plenty of sky rises with 3.5 million holidaymakers visiting  annually. As a result, the town has quite a British slant, with familiar places serving pints, roasts and fry-ups. Torremolinos has got 9 kilometres of the sandy stuff, and it shelves nicely into the sea so it's good paddling territory. The entire stretch is backed by a prom that merges into the smart marina of Benalmadena. El Ranchito Equestrian Centre allows kids to see dancing horses. The dressage shows, elegantly performed by some of Andalusia's most talented riders, are incredible and will keep little ones enthralled. There is also a Crocodile Park in the town with more than 300 crocodiles of different species.
Waterpark Aqualand Torremolinos
Aquapark Torremolinos is huge – in fact it's the largest waterpark on the Costa del Sol. There's something for everyone here, with crazy rides like the "Gran Canyon", "Black Hole" and "Twister" and the more relaxing Jacuzzi Tropical Lagoon and Niagra Lake. The 3000 square metre fun pool will keep the kids amused while parents get the chance to soak up the sun and work on that tan! Aquapark has two sections especially for babies and toddlers so your whole family should be able to have a great day out.